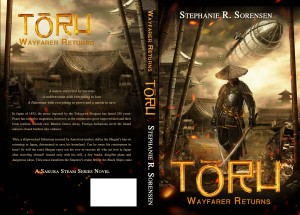 A nation encircled by enemies
A noblewoman with everything to lose
A fisherman with everything to prove and a nation to save
In Japan of 1852, the peace imposed by the Shogun has lasted 250 years. Peace has turned to stagnation, however, as the commoners grow impoverished and their lords restless. Swords rust. Martial values decay. Foreign barbarians circle the island nation's closed borders like vultures.
Tōru, a shipwrecked fisherman rescued by American traders, defies the Shogun's ban on returning to Japan, determined to save his homeland. Can he rouse his countrymen in time? Or will the cruel Shogun carry out his vow to execute all who set foot in Japan after traveling abroad? Armed only with his will, a few books, dirigible plans and dangerous ideas, Tōru must transform the Emperor's realm before the Black Ships come.
OUR FIRST LAUNCH!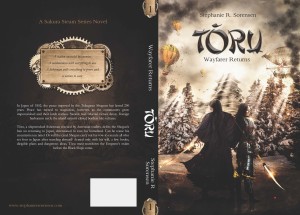 Tōru: Wayfarer Returns, is the first book in the Sakura Steam Series, an alternate history of the tumultuous period from the opening of Japan in 1853 to the Meiji Restoration in 1868. This alternate history steampunk technofantasy set in 1850s samurai-era Japan was released in February 2016 in both print and digital forms. Watch this space for updates!
If you enjoyed "Toru: Wayfarer Returns," please leave a review on your favorite review sites.